Health and where we live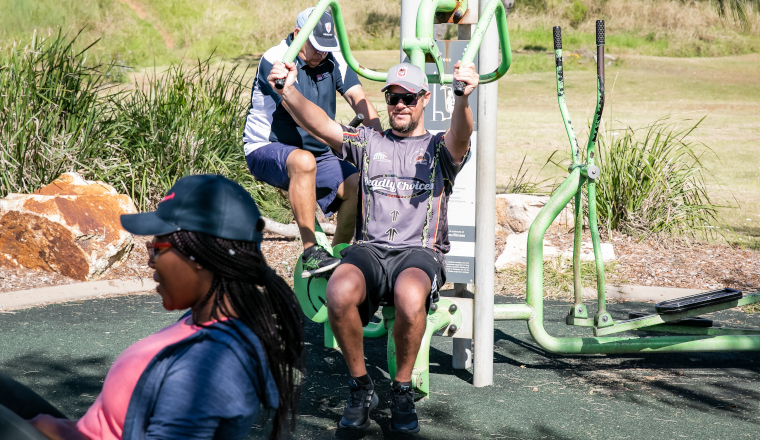 We need opportunities to be healthy and active throughout our lives in the places we live, study, work and play. 
Over the years the way we get around has changed. Where it was once common for people to walk to work or school it is now more common for people to drive or be driven. Nowadays, our work is largely seated and sedentary. We tend not to spend as much time outdoors doing something active for fun. The amount of time we spend at work impacts the time we have available to be active or prepare healthy meals. So now more than ever we need to create healthier places that allow, support and encourage active, healthy lives.  
We know it's easier to be active if: 
where you live is close to shops, schools and services so you can walk or cycle, instead of driving
there is supportive infrastructure such as footpaths, safe-road crossings and cycle paths
there are quality spaces that improve wellbeing, such as green areas, open space and recreational facilities.  
There are lots of ways that community members can get involved in improving their local area.
Subscribe to your local council's updates, newsletters and Facebook pages.
Check your local council's 'Have your say' website page. Participate when you can and have your say via community surveys, community consultation events or written submissions.
Join a community-based group that advocates for community needs.
Find examples of places that you would like to have in your area and share them with your local council.
Look out for funding opportunities that support community-led initiatives.
Here are some local examples of how community action has created healthier places:
The Beach to Beach shared pathway in the Camden Haven is a community-based project that aims to deliver 11km of continual footpath/cycle way between North Haven Beach and Pilot Beach in Dunbogan. This project is a collaboration between a committee of local community members and Port Macquarie-Hastings Council.
The Schools to Schools footpath project aims to deliver a continuous shared path between Laurieton and Kendall in the Camden Haven region so children can walk or ride to school. This project is a collaboration between Port Macquarie-Hastings Council, RMS and local community members.