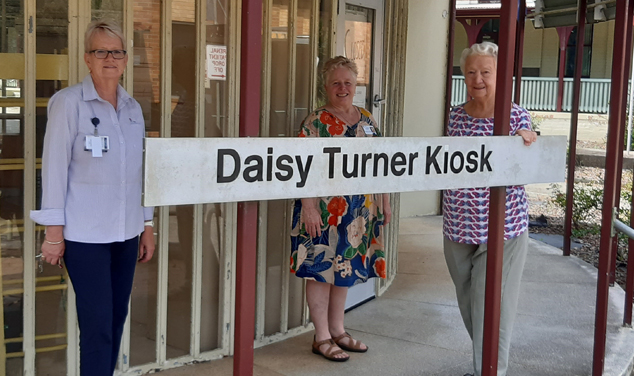 New use for Kempsey hospital's Daisy Turner Kiosk
Oct 12, 2020
This article was published 3 years ago.
Kempsey District Hospital's Daisy Turner Kiosk is undergoing an internal transformation and will open early next month with an important new role – as a COVID-19 testing clinic.
Over the next fortnight, the River Street entrance to Kempsey Health Campus will be bustling with activity as workers undertake the project to repurpose the kiosk.
The hospital's Acting Executive Officer Felicity Wardle said the project is on track to be completed by the end of October.
"The kiosk will then undergo a deep clean before we start our staff orientation sessions and equipment stocking. We hope to be ready to open the clinic in the first week of November," Ms Wardle said.
The Kempsey branch of the United Hospital Auxiliaries of NSW, which built the kiosk in 1964, has enthusiastically supported the project, which will see much-needed maintenance work carried out on the building.
Branch President Aileen Lewthwaite said the maintenance works would give life to the kiosk, which she described as a Kempsey icon.
The unusually shaped building served the hospital community as a kiosk for more than 50 years. Its profits were donated to the hospital to purchase medical equipment and patient comfort items.
This week's announcement of a $6000 refurbishment to transform the abandoned building into a COVID-19 testing clinic has given the branch president a very good reason to smile.
"The revamp will make the community happy and it will be wonderful because people will be using it once again. This is an opportunity to keep our kiosk as an icon. It will be nice to see it have a facelift," Ms Lewthwaite said
The new COVID-19 testing clinic will replace the hospital's existing walk-in clinic and will operate during the same hours, 8.30am to 2.30pm, seven days a week.