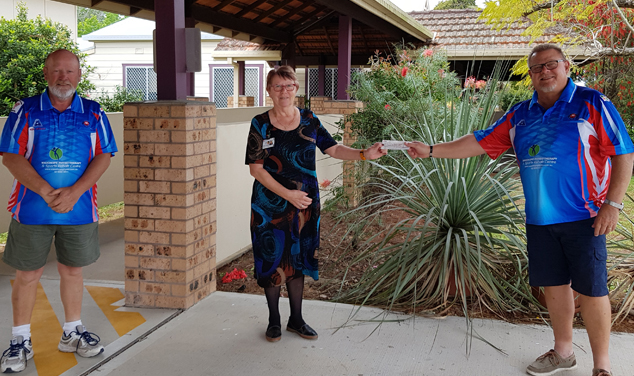 Biased bowlers return to Wauchope Hospital
Oct 07, 2020
This article was published 3 years ago.
For years, Wauchope Bowling Club has supported Wauchope District Memorial Hospital through its Wrong Bias competition, and while COVID-19 has interrupted most activities this year, the bowlers weren't about to let a pandemic sideline their fundraiser.
The bowlers have delivered a $1500 donation to the hospital, which will fund equipment for stroke rehabilitation.
Club representatives Ken Ansley and Graham Scaysbrook presented the proceeds of the competition to Nurse Manager Judy Beilby, who was delighted.
"The bowling cub has made a big difference to the comfort and wellbeing of our patients over many years, sometimes in the Palliative Care Unit and sometimes in the Rehabilitation Unit," Ms Beilby said.
"Their ongoing support means a lot to our patients and their families, and this year it will be the Rehab Unit that benefits.
"This is a unit that focuses on restoring mobility, and independence, after stroke and so the equipment the club's donation will purchase will help our patients get there faster."
The club's bowlers have hosted the friendly fundraiser, a fine system for members who inadvertently send the bowl away from the jack instead of towards it, for eight years.
Every wrong bias delivers a gold-coin donation to the kitty, and over the past eight years, the competition has delivered $5300 to Wauchope hospital.
"Our wrong bias box is something all of our members are more than happy to contribute to, even if they have not inadvertently put down a wrong bias," Mr Ansley said.
"This is because they know where their donations are going.
"Some have had family or friends admitted to hospital and everyone appreciates the value of these units to our community".  
Ms Beilby said the hospital was very grateful the bowlers keep returning each year.
"Every piece of equipment, every comfort item they have purchased makes a hospital stay a little easier for our patients.
"They are a wonderful support, and we are thankful for it."