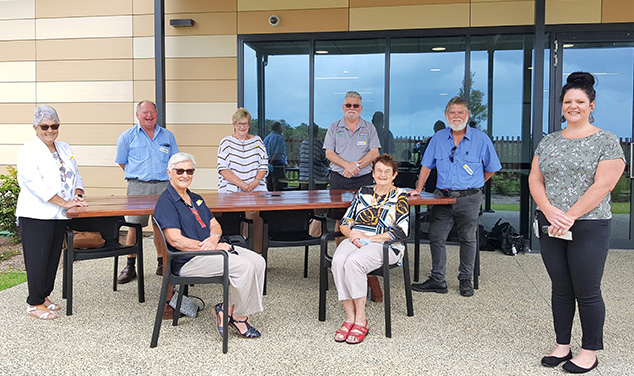 A blooming great addition to hospital courtyard
Feb 09, 2021
This article was published 3 years ago.
Macksville District Hospital has taken ownership of a beautifully handcrafted outdoor furniture setting thanks to the collaborative efforts of six community groups.
The cost of the timber, $2000, was met with generous donations from members of the Bowraville, Talarm and Nambucca Valley Garden Clubs and the Bowra-Macksville branch of the United Hospital Auxiliaries of NSW.
The talented craftsmanship was provided, free of charge, by the members of the Nambucca Valley and Nambucca Heads Men's Sheds.
UHA branch president and Bowraville Garden Club president Isabelle Hooper said the gift to Macksville Hospital was the perfect definition of community collaboration.
Mrs Hooper took the idea, which was raised at early planning meetings for the new hospital, to the three garden clubs. The members made personal donations to make a $1400 contribution to the project and the UHA branch donated the balance.
"By working together, we have achieved something special for our local hospital – a setting that enables patients and their families to sit outside and take in the beauty of their surroundings," Mrs Hooper said.
"The UHA is very grateful to the three garden clubs and the Men's Sheds for coming on board to make this project possible.
"Anyone who visits our new hospital can't help but be impressed by its design and functionality. Every effort has been made to create a beautiful building in a beautiful setting, so we feel very proud to have been able to contribute to the amenity of this special place."
Acting Deputy Director of Nursing Donna Kennedy thanked the many people involved in creating such a perfect addition to the hospital's landscaped space.
"It's important for patients and their loved ones to be able to enjoy the beautiful surrounds of our hospital, if possible.
"This beautiful setting makes that possible and we couldn't be more grateful for the collaboration that allowed it to happen."