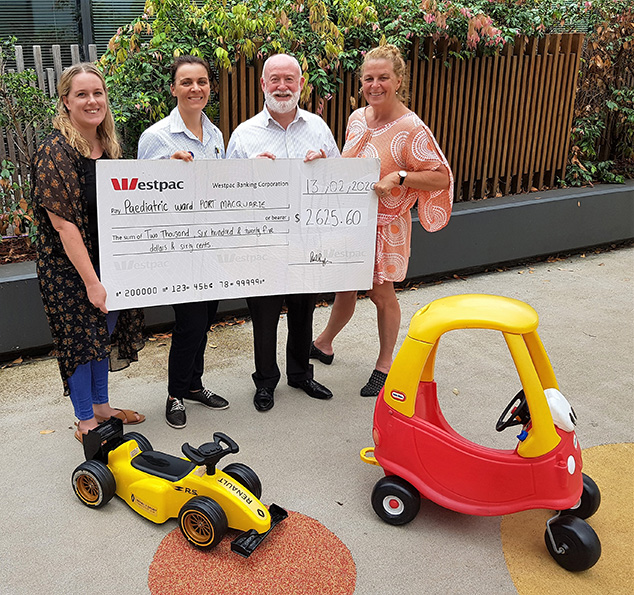 Toys Deliver Support For Hastings Paediatric Patients
Feb 13, 2020
This article was published 4 years ago.
Wauchope's Bago Tavern has delivered welcomed support to children being cared for at Port Macquarie Base Hospital.
The tavern's owners, Peter and Judy Bugden, wanted to give back to the community and decided a toy raffle in the lead up to Christmas was the perfect fundraiser for the base hospital's Paediatric Unit.
They purchased $2000 worth of toys, and were supported by Hastings Co-op, Wauchope Seafoods, Balmoor Distributors and The Big Banana who also donated raffle prizes. John and Pam Smith made a significant donation and the tavern's patrons and visitors joined the fundraising effort by purchasing tickets.
The result was a $2625.60 donation, delivered to Paediatric Nursing Unit Manager Kym MacCullagh this week.
"Our Paediatric team is very grateful for the support because every dollar donated helps us buy equipment and patient comfort items for the youngsters we care for," Ms MacCullagh said.
Mr Bugden said the idea for the fundraiser came from a desire to give back to the community.
"We wanted to do something for others, but we also wanted to keep it local," Mr Bugden said.
"We came up with two options – children who are in hospital and families who need palliative care services – so we decided to support both.
"Our Christmas raffle will help paediatric services at the base hospital and our upcoming Easter raffle will support palliative care patients at Wauchope District Memorial Hospital."
Mr Bugden said he hoped the tavern's visitors would get behind the seafood and Easter egg raffle, the details for which would soon be on Bago Tavern's Facebook page.
"We really are looking forward to making these two fundraisers annual events that everyone can look forward to and support in the knowledge that every dollar raised will help the services that support children and the seriously ill," Mr Bugden said.