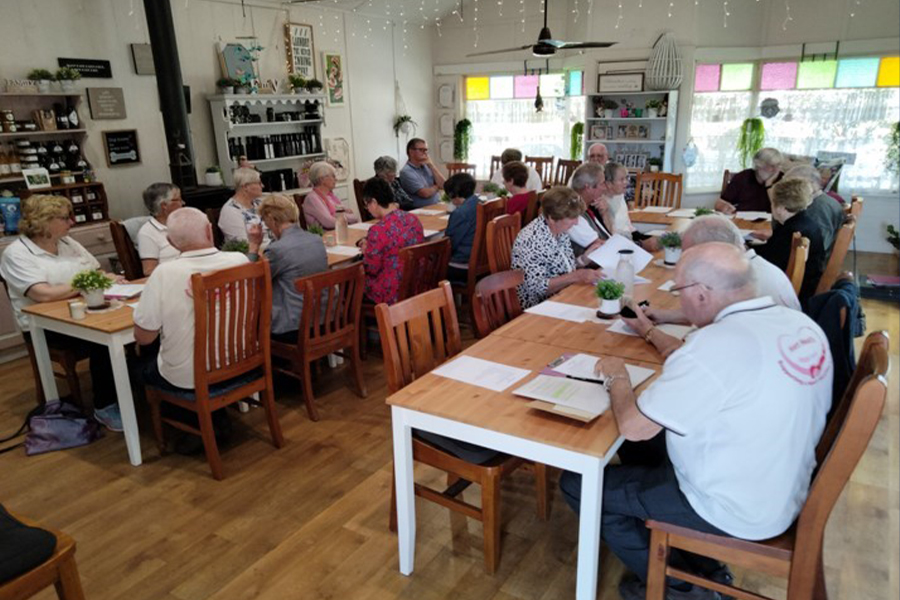 The Mid North Coast volunteers who are all heart
Sep 17, 2023
Heart Health NSW volunteers, who help support cardiac patients at Port Macquarie Base Hospital, met at Moorland Cottage recently for their Annual General Meeting where they reflected on the achievements of the past year and are looking forward with confidence to 2024.
The executive committee was returned, with Doug Short continuing on as President, Reg Wilkinson as Secretary, Bruce See as 1st Vice-president and Ruth Cornish as Treasurer. Jim McClellan is 2nd Vice-president. 
President Short acknowledged the work of the volunteers and the dedicated cardiology staff at Port Macquarie Base Hospital, reserving a special mention for Clinical Nurse Specialist and Cardiac Rehabilitation Coordinator Jannie Denyer and Community Physiotherapist Carolyn Hamilton, Nurse Unit Manager Lisa Bemmann, along with Sean Carroll  and Rachel Stacey who encourage coronary patients, both pre- and post-surgery, to join Heart Health NSW for peer support and to complete their recovery through the hospital's Cardiac Rehabilitation program.
"On behalf of everyone at Heart Health, I extend special thanks to all the fabulous cardiac care people for their expertise and dedication to all our cardiac patients," Mr Short said.
"I would also like to personally thank every single one of the committee, sub-committee, and coordinators for all the hard work they have put in over the past 12 months.
"From a personal point of view, I have enjoyed their counsel and friendship and the cooperation given me. It means a great deal and I can't express my gratitude enough."
Other committee members were elected were Nea Hosking, Bryan Gough, Liz Gough, Adrian Le Archer, Elaine Hallam, Beth Marris and Traci Moore. Assistants are Dennis Bridgeland and Bill Peck.
The volunteers conduct walks for anyone wanting to look after their heart. Walks leave from Port Macquarie Town Beach Car Park (Thursdays, 9am), Laurieton United Services Club lower car park (Mondays at 9am), Waterman's Cafe Wauchope (Tuesdays at 8.30am) and Gladstone Park (Fridays at 7am).
Members of the public, including people who have experienced cardiac health issues, are welcome to join for a bit of fitness, socialisation and fun.
For further details please email membership secretary Reg Wilkinson at statewi@bigpond.net.au.