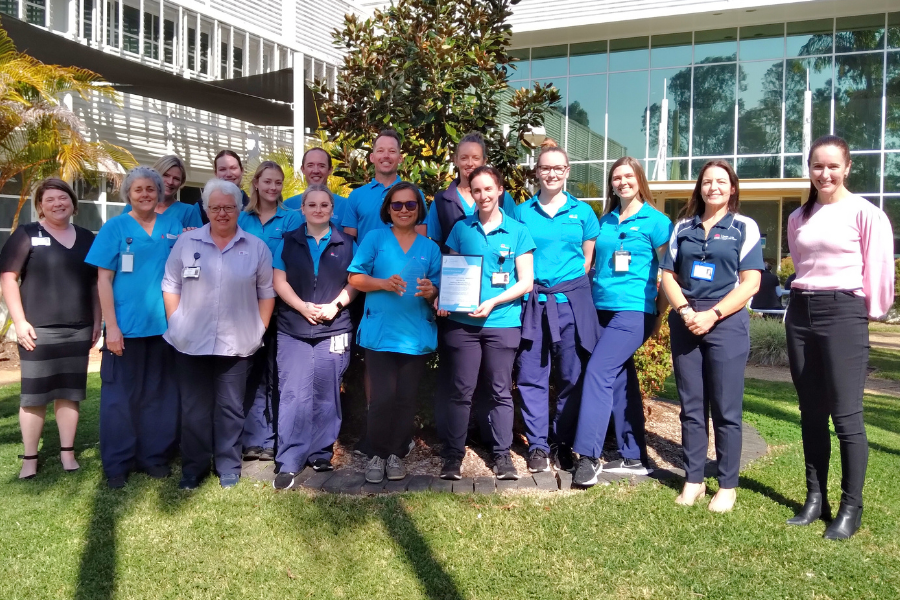 Leaders in safety rewarded for safe, nurturing environment
Sep 13, 2023
The Hastings Macleay Physiotherapy Team has earned the third 2023 Mid North Coast Local Health District Safety Leadership Award.
The award was introduced in 2021 to recognise staff who demonstrate excellence and innovation and contribute to workplace health, safety and wellbeing. Individuals and teams can earn the award which is presented quarterly and at the annual innovation award conference. 
The physiotherapy team consists of physiotherapists across Port Macquarie Base Hospital, Kempsey District Hospital, Wauchope Memorial Hospital and Community Health Services within the Hastings and Macleay regions.
Creating a safe, nurturing environment for patients and staff attracted the eye of the Health, Safety and Wellbeing team when awarding the recognition. Creating a supportive and secure environment enables everyone to flourish.
Click the image below to scroll through more photos.
Kalinda Gosewisch from the Workplace Health and Safety team presenting Port Macquarie Hastings Physiotherapy manager, Anthony Best with the Safety Leadership Award.
Kempsey team: Front row (L to R): Siobhan Finnegan, Laura Scott, Pip Cox, Vincent Chan. Back row (L to R): Mehrnoosh Alipanahi, Robyn Stanning, Alice Bateup.
Chloe Johnson-Sullivan (Allied Health assistant), and physiotherapists Jeremy Rourke and Hannah Dyer.