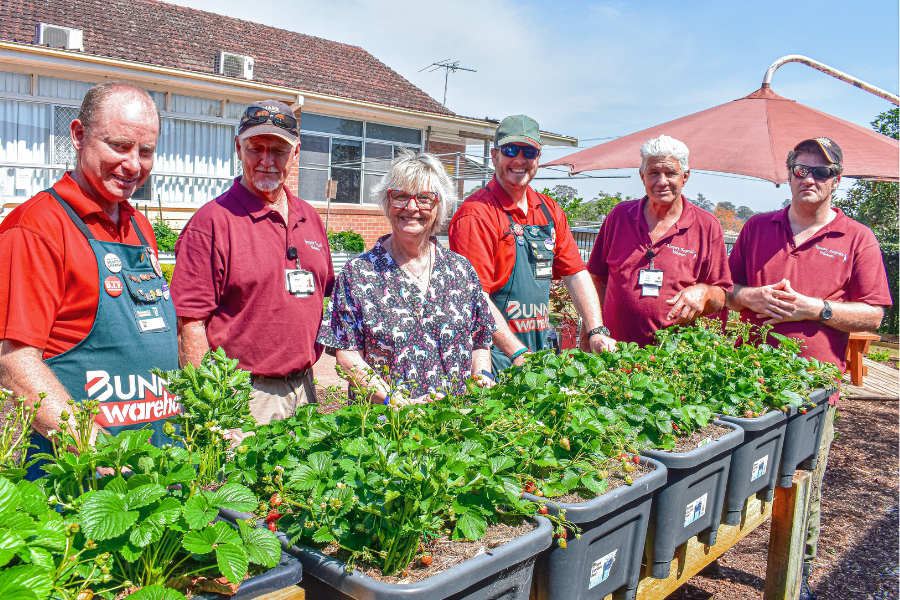 Kempsey volunteers are all heart and green thumbs
Nov 03, 2023
Patients completing their rehabilitation at Kempsey District Hospital will look forward to walking outside thanks to the blooming garden boasting plump strawberries and more.
Volunteers, with the strong support of the local Bunnings store, built the garden to give patients and staff an outdoor space for a break to connect with nature, a lovely view through the rehab room windows, and a place to stroll.
Each Wednesday, Kempsey United Hospital Auxiliary volunteers can be found maintaining the garden and keeping the plants watered and as happy as possible.
The rehabilitation garden project came about following consumer feedback about the poor state of the former garden.
Nurse Unit Manager Kate Martin said hospital staff contacted the amazing Kempsey UHA and their president, Maxine Walker, for help.
"Refurbishing the rehab garden has been a goal for the Kempsey Rehab nursing team," Ms Martin said.
"Thanks to the heart and determination of the volunteers, the space has transformed.
"It is designed to be an extension of the therapies and services that we offer indoors, and it has allowed our patients to get outside, enjoy a spot of gardening, a bit of sunshine or just a chance to sit and breathe in the fresh air, something that is not widely available in the clinical space.
"Utilising the garden has motivated many of our patients to engage in activities they enjoy and, ultimately, has led to better outcomes for them upon discharge."
Luke Dockrill from Bunnings, said the project was a pleasure to be a part of, paid tribute to the hardworking volunteers and said they were looking forward to helping on the next garden project at the hospital.