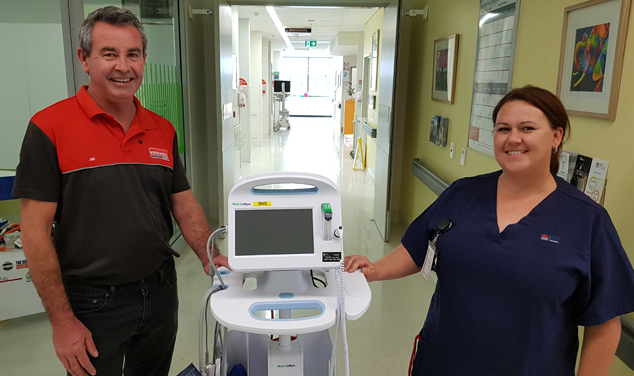 Humpty Dumpty Foundation and Kennards Hire deliver for children
Sep 11, 2020
This article was published 3 years ago.
The Humpty Dumpty Foundation and Kennards Hire have answered the plea of Port Macquarie Base Hospital's frontline with the donation of a Connex Vital Signs Monitor valued at $6,200 for Paediatrics.
The Connex Vital Signs Monitor allows accurate assessment of vital signs like temperature, blood pressure and oxygen saturation levels in the paediatric setting.  This monitor will recognise deteriorating clinical conditions immediately, which allows for early intervention which greatly reduces further health risks to the child.  The Connex Monitor is an absolutely vital piece of equipment in the ward.
"We've been supporters of the Humpty Dumpty Foundation for some time now and, as a family-owned business, feel a great connection to the incredible work they do," said Bill Whitehouse, CEO of Kennards Hire.
"When the opportunity came up to help them purchase such a vital piece of equipment for the Port Macquarie Base Hospital, we were honoured to get involved."
Founder and Executive Chairman of the Humpty Dumpty Foundation Paul Francis OAM said it was with thanks to the generosity of donors such as Kennards Hire that Humpty Dumpty Foundation could make a real difference to hospitals and healthcare services across Australia.
"Now more than ever, hospitals and healthcare services need Humpty's help and it is important we continue our critical work of providing essential and often life-saving medical equipment to metropolitan and regional areas in New South Wales to ease the load on our frontline professionals," Mr Francis said.