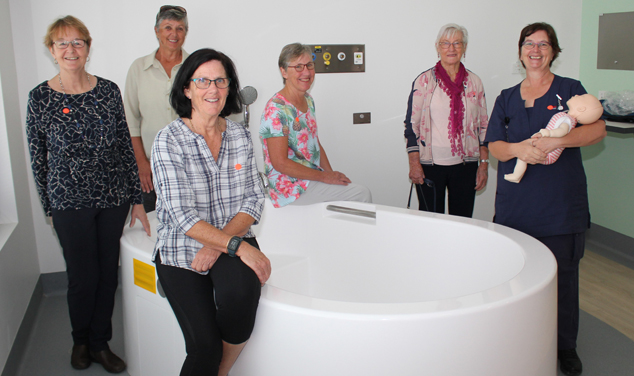 BowraMacksville UHA volunteers step up to the challenge
Oct 19, 2020
This article was published 3 years ago.
BowraMacksville hospital volunteers have donated a massive $68,778.04 to Macksville District Hospital, despite losing three  months of the 2019/20 financial year due to COVID-19 restrictions.
The local branch of the United Hospital Auxiliaries of NSW closed its café in March as volunteer  services across NSW hospitals were shut down because of the pandemic.
Despite the interruption, the volunteers managed to donate $37,170 for two birthing baths at  the new Macksville hospital and raise $32,000 for a defibrillator.  
Branch president Isabelle Hooper said the group's 67 members also worked a total of 5,942 hours during the shortened financial year, mainly in the Car Park Café at the old hospital before the shutdown.
A limited number of volunteers are now back at the new hospital café, a  service they resumed in June.
"This year has certainly presented everyone with added challenges, but  it has also brought us, ironically, closer together," Ms Hooper said.
"Our volunteers have missed each other, and hospital staff, as well as  the visitors calling in to see loved ones and friends in hospital.
"The challenges of 2020 haven't diminished our determination to support  our local hospital, and it shows in the funds raised, the volunteer hours worked and the readiness of those who were able to return to the café to provide a much-needed and valued service."
Macksville's Executive Officer/Director of Nursing Ray Green said the volunteers were an integral part of the hospital team.
"We never cease to be amazed by their enthusiasm to help, their determination  to make a difference to our patients, and their commitment to our hospital," Mr Green said.
"Our volunteers are part of the Macksville Hospital family, and we can't  wait to have them all back on site post COVID.
 "In the meantime, we are grateful to those volunteers who are able to serve in the café. They provide a vital service and are much loved, particularly by our coffee connoisseurs.
 "We are also grateful for the branch's ongoing support through the donation of medical equipment.
"Their commitment is significant, their generosity boundless and their friendship is greatly valued."