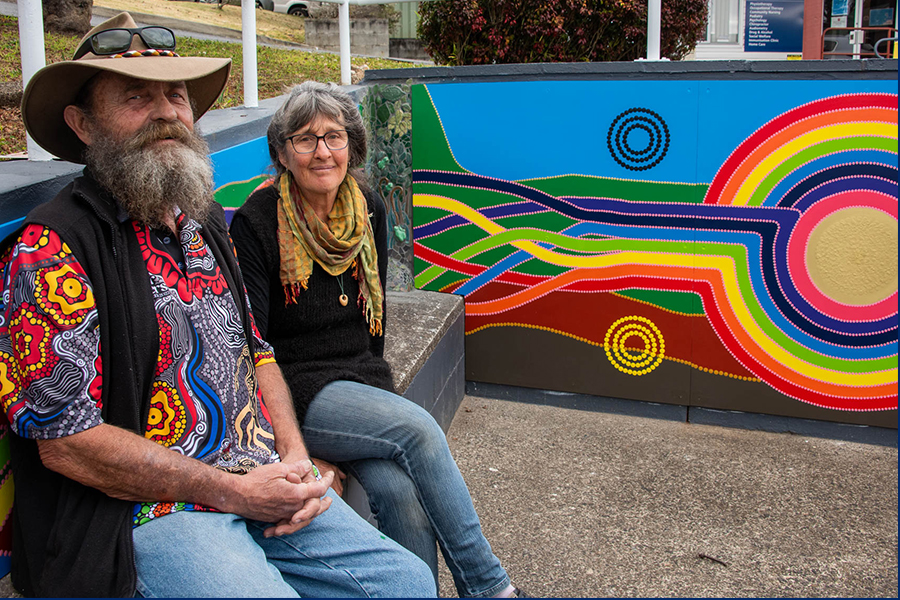 Artwork unveiled at Dorrigo MPS
Jul 28, 2023
Dorrigo Multi-Purpose Service officially opened a striking mural painted by Uncle Allan Phillips and mosaic artist Jenni Francis during NAIDOC Week celebrations recently.  
The community came together to thank the artists, recognising their hard work and creativity.
The collaborative work, titled Grandmother Mountain Healing: One Mob Dreaming, signifies healing while paying tribute to our elders.
"I was given a dreaming story by an elder who is no longer with us," Mr Phillips said. 
"So just like the NAIDOC theme, it's for my elders that I continue on that journey of one mob dreaming.
"What you see in the centre of the rainbow circle is the gold for the creator, the pink for healing and then the rainbow.
"The pink dots are on both sides of the rainbow is how the rainbow brings healing.
"Here on the mountain, we have this amazing gift every morning and night as the sun rises at the right time it's a rainbow and as it sets at that exact moment it's another rainbow."
Staff also raised the Aboriginal and Torres Strait Islander flags in recognition of this year's theme 'For Our Elders'.
Click on the image below to view a gallery of images