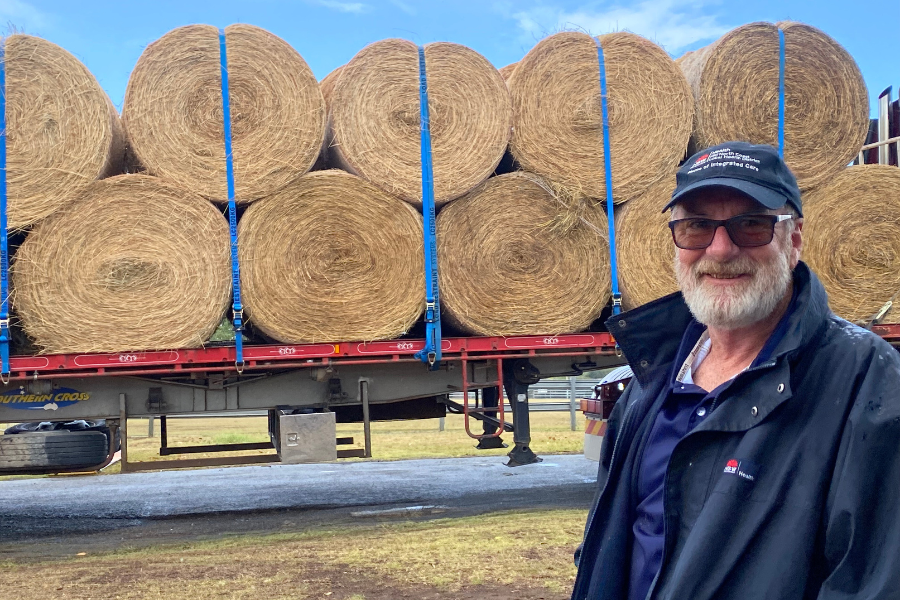 A helping hand for hay runners and farmers
Nov 10, 2023
Two convoys of Aussie Hay Runners trucks motored into the Port Macquarie-Hastings local government area in the past fortnight, dropping much-needed feed to the local farming community.
All up, 68 trucks laden with 3,560 bales of hay valued at $338,200 converged at the Wauchope Showground on 28 October and 10 November. The deliveries will help 355 local farming families.
Staff from Mid North Coast Local Health District's Disaster Recovery team were on hand on both days with information on mental health and wellbeing.
The team spoke with farmers and truck drivers about services available to support them through disaster, recovery and ongoing wellbeing.
"We have certainly seen challenging times over the past few years with drought, fires, floods, and we experienced the driest spring season on record," said Acting Manager Disaster Recovery Team Chris Farley.
"Farmers, their families and the community are doing it particularly hard. The Disaster Recovery team was on hand to provide education about mental health, and wellbeing, how to start those difficult conversations if they are concerned about someone and to let people know that there are services available that want to help.
"Our Farmgate counsellors can provide free emotional and mental health support to farmers experiencing stress from drought, fires and floods as well as linking them in with other supports such as financial and legal services."
Find out more about the Aussie Hay Runners on their Facebook page.