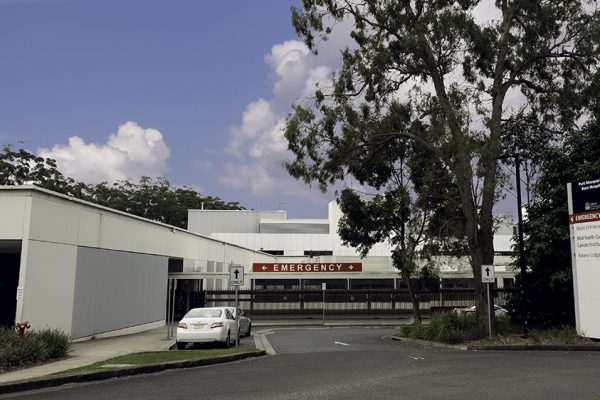 Port Macquarie Base Hospital
The Port Macquarie Base Hospital is a 228 bed level five facility with a 24-hour Emergency Department and a range of specialist services including intensive care, cardiology, geriatric, rheumatology, stroke, respiratory, oncology, renal dialysis, general medicine, orthopaedic, urology, vascular, general surgery, mental health, paediatrics and obstetrics.
Additional services include physiotherapy, dietetics, social work, occupational therapy, Aboriginal health, Acute Pain Service and an onsite pharmacy. Diagnostic services include pathology, CT scans, nuclear medicine, MRI, ultrasound and general x-ray.
Address

Wrights Rd
Port Macquarie NSW 2444
Visiting hours

The Mid North Coast Local Health District acknowledges that the wellbeing and safety of patients is enhanced by support from family, carers and close friends.  

All MNCLHD facilities now have flexible visiting times based on individual patient needs.  However, it is important that patients are able to have adequate rest, if you wish to visit between the hours of 8pm and 7am it would be appreciated if you consult with nursing staff prior to visiting.

Visitor restrictions during COVID-19

NSW Health has restricted access to hospitals and health care facilities where vulnerable patients receive care to no more than one visitor per patient per day, to minimise the spread of COVID-19. 

Visitor screening

Everyone who enters our hospitals and healthcare facilities needs to undergo health screening. We have QR code registration at each site and you will be asked a series of questions such as whether you have been in close contact with someone with COVID-19, your recent travel and whether you are experiencing any flu-like symptoms, you will also have your temperature checked.

Please note this QR code does not work from the Service NSW app. Use your mobile device's camera or a QR code app. 

Visitors from hotspots

Visitors from areas of increased surveillance (hotspots) will not be permitted into our health facilities although anyone needing medical assistance will be seen, regardless of where they have travelled from.

Physical distancing

Help reduce the risk of COVID-19 infection by staying 1.5 metres away from other people where possible and avoiding close contact with people you do not live with. 

Face mask requirements

Patients and visitors are required to wear a face mask (not a fabric mask).

Masks should not be worn by toddlers under 2 years of age and babies, as they are a choking and suffocation risk.

Children 12 years and under are exempt but are encouraged to wear masks where practicable.

Visit NSW Gov to learn how to correctly put on, wear, and dispose of your face mask.
Your COVID-19 testing clinic
To find out more about your local testing clinic location and operating hours visit the MNCLHD COVID-19 testing clinic page.
Your local health services
To find information on a broad range of local health services visit Your services.
Accommodation
Situated adjacent to the Port Macquarie Base hospital, Rotary Lodge provides accommodation for cancer patients attending the hospital for short term treatment and relatives and friends of seriously ill or injured persons while they're receiving treatment at the hospital.